THC delivery in Canada is becoming quite popular these days, with online weed dispensaries popping up around every corner. You can get your hands on a wide range of cannabis-derived products, including raw flowers, from any licensed dispensary. The best part is you can get it delivered straight to your door in no time.
Read on to find out why cannabis enthusiasts in Canada prefer THC delivery services and what benefits you can expect if you jump on the same bandwagon.
Is Cannabis Delivery Legal in Canada?
The short answer is yes, but certain laws and regulations that every marijuana dispensary and the customer must follow.
Every business selling THC, CBD, and other cannabis-derived products must ensure their customers are of legal age to buy cannabis.
In almost every Canadian province, the legal age is 19, while it's 18 and 21 in Alberta and Quebec, respectively. Customers must provide proof of age before they confirm an online order.
To receive their delivery, every customer must present their ID again and provide their signature.
As a matter of fact, anyone from their household can receive the package as long as they provide a valid ID and an adult signature.
This goes for both medical and recreational cannabis, while those who shop for medical marijuana might need to provide a doctor's prescription as well.
Do Online Weed Dispensaries in Canada Deliver Outside the Country?
Unfortunately, no. It's illegal for any licensed marijuana dispensary to ship their products outside the country, even to places where cannabis is legal, such as certain US states. Anyone who tries to do it could face a hefty fine or incarceration.
Cross-border shipping is illegal because no one can possess any amount of cannabis while crossing the border. There are serious penalties in place for that, both in the US and Canada.
Why Use Cannabis Delivery Services?
Buying any THC-based, CBD-based, or other cannabis product from a local weed dispensary does have its perks. However, brands that offer THC delivery services provide several indispensable benefits that can make your shopping experience an absolute breeze.
Convenience
Placing an order at an online weed dispensary couldn't be more convenient. You can do it from the comfort of your home, while you're at work, or when hanging out with friends.
You don't have to step foot outside, search for a parking spot, and deal with a long line to place an order. You don't even have to wait for your chosen dispensary to open, as every online shop is available 24/7.
Time-efficiency
Going to a local brick-and-mortar dispensary can take too much of your time if there isn't one in the vicinity. If you have the time to get to the first closest one only after work, you may not even get there in time before it closes.
Placing an order online can save you precious time. All you need to do is select the desired product, provide proof of age, and wait for your delivery to arrive at your doorstep.
Flexible delivery hours
Did you know that you can schedule your THC delivery? You can choose any time slot that works for you when placing your order and get your package at the right time you need it.
That can come in pretty handy if you have a busy work schedule but don't want your cannabis delivered at work. It can be beneficial if you need medical cannabis since your chosen dispensary can always refill your prescription at the right time.
Privacy
If you value privacy when purchasing THC-based products, then choosing a THC delivery service is a no-brainer.
Brands that offer THC delivery in Canada must comply with certain shipping regulations. They must use unbranded vehicles and unmarked, childproof, odourless packaging with a security seal. No one can ever know what you've bought, so you can receive your package anywhere without a worry.
Safety
Whether your chosen THC delivery service offers front-door delivery or ships your order via mail, you can expect utmost safety as long as you purchase from a reputable dispensary.
That's because delivery drivers go through rigorous security screenings to ensure they are reliable, professional, and won't tamper with or steal any package. Moreover, only licensed cannabis stores and their staff can deliver cannabis products.
Real-time order tracking
Not every online dispensary in Canada offers real-time order tracking, but more and more embrace the technology. If you purchase from a marijuana shop that lets you track your order in real-time, you'll always know when your package will arrive.
Hundreds of different strains
There are hundreds of different cannabis strains out there, from Sativa and Indica strains to their hybrid counterparts. If you visit your local dispensary, you may not find what you're looking for.
What if you want to reduce anxiety with certain Sativa strains, but your closest brick-and-mortar shop doesn't have many favorable strains on offer?
What if you can't find a specific Indica strain to help you relax before hitting the sack? Perhaps you're more for a certain crossbred hybrid strain, but your local shop doesn't have it?
With an online dispensary offering THC delivery services, you never have to worry about not finding the products you want. They work with hundreds of different brands offering various Sativa and Indica strains, each containing various levels of THC and CBD. You can find what you want in seconds.
Regular deals
You can rarely find special deals and promotions at brick-and-mortar marijuana stores, mainly because they have higher overhead and operational costs than their online counterparts.
Online retailers don't need to pay for rent and utilities to afford to reduce their prices. That's also why most of them offer free THC delivery, either on all orders or on those over a certain value. Some offer free THC delivery on orders over a specific dollar amount, while others use quantity.
Many online delivery services have regular sales and offer favourable discounts to all or only first-time customers. You can get premium-quality weed at a fraction of the cost of most products at physical locations.
There are even weed dispensaries that include complimentary gifts in all orders or those over a certain value. For instance, you can get a free flower bud or a pre-rolled joint in your THC delivery package.
What Cannabis Products Can You Order Online?
You can order any cannabis-derived product online and get it delivered straight to your door. As mentioned above, online stores work with many different brands and offer hundreds of different Sativa and Indica strains, so you have a whole world of options.
If you prefer to vape, you can find thousands of vape juices at online weed dispensaries. Some come from high-THC strains containing little CBD, while others are formulated with CBD isolates and contain non-detectable THC levels. There are even pre-filled vape cartridges you can get via a THC delivery service, either via mail or delivered to your front door.
Some of the most popular THC products available for front-door deliveries are edibles, which come in all shapes and sizes. You can purchase THC gummies, cookies, brownies, chocolate, candy, popcorn, and many other THC-infused edibles.
Other THC and CBD products you can buy on a licensed website and get delivered to your door include concentrates, distillates, tinctures, topicals, oils, resins, dried flowers/buds, and more.
All the cannabis products you can buy offline are available on various websites as well, except they offer many more options. And let's not forget all those benefits of using a reliable THC delivery service mentioned above.
Can You Get a Same-Day Delivery?
Absolutely! Most weed dispensaries in Canada offer same-day delivery services these days. You can always get your dried flower or any other THC product on the same day you've bought it.
However, some dispensaries don't offer same-day deliveries to all areas within a particular province. Depending on where you live, you might have to wait a couple of business days for your order to arrive.
How to Place a Weed Delivery Order
Placing a weed delivery order on any licensed website couldn't be more straightforward. It takes just a couple of minutes and includes the following steps.
Add a product to your cart.
Once you've chosen your weed delivery service, visit their website to search for your desired products. Add all the items to your cart and review the order to ensure that no hidden costs have suddenly popped up.
Add a coupon code if you have one.
Many THC delivery services offer coupon codes to first-time customers. If you have one, don't forget to enter it in the appropriate box.
This stage of your purchase is also where you can add any complimentary gifts that your chosen provider may offer, as long as you have more than one option to choose from.
Provide your billing and shipping address
Your billing and shipping addresses don't have to be the same. Keep in mind that some dispensaries don't allow P.O. boxes as shipping addresses, so check in advance.
Provide a valid ID
As you already know, you have to provide a valid, government-issued ID when buying weed in Canada. The site you've chosen might ask for a scanned ID or only for your name and date of birth. In any case, you'll have to show your ID once your package arrives.
Pay for your order
E-transfers are the most common payment method for weed delivery orders in Canada. They're cheaper and don't require any credit card details.
Your chosen provider's site will provide you with all the necessary instructions on paying with an e-transfer, so you never have to worry about doing something wrong.
The steps typically include:
Logging into your bank account
Selecting a specific e-transfer option
Providing your THC delivery service's phone number or address
Entering the amount you need to send
Completing the money transfer.
How Much Does Cannabis Delivery Cost?
No business offers the same cannabis delivery costs, just like they don't have the same product prices. Some offer free delivery on all purchases, while others waive the delivery fees if you order a minimum specified amount, which could be a dollar amount or quantity.
That's why it's crucial to do your research and compare the prices of various brands before placing an order. You wouldn't want to overpay for the delivery, especially if you place a small order.
How to Choose the Best Online Dispensary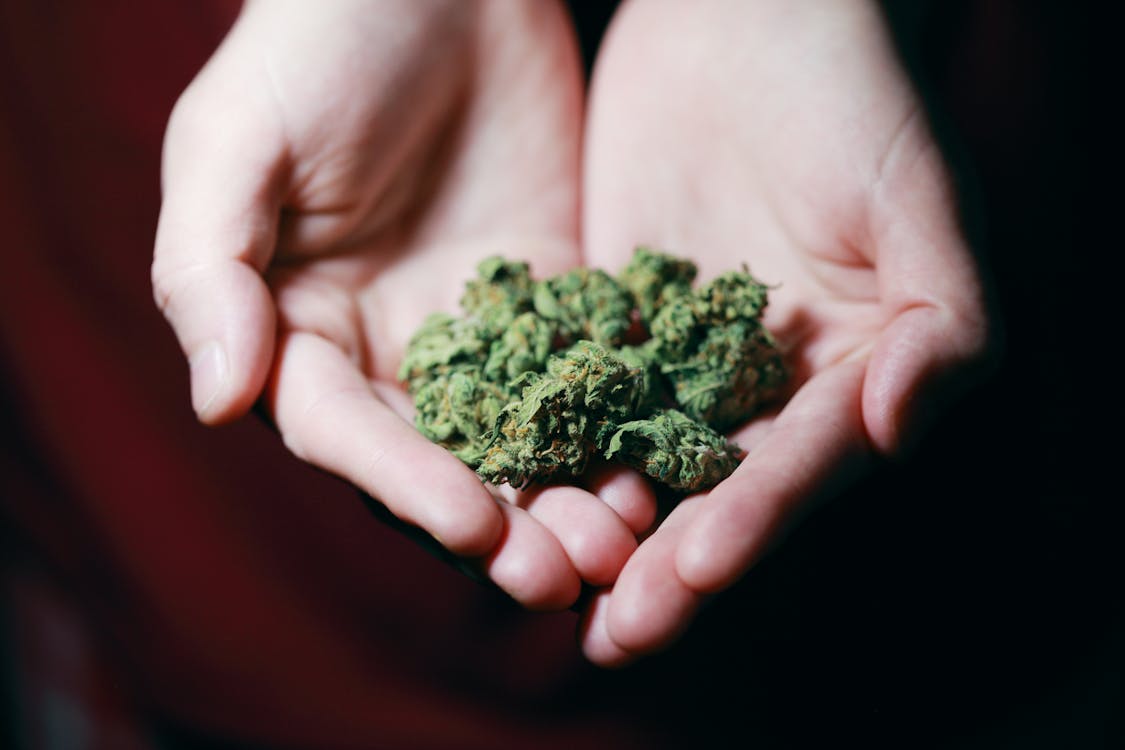 Choosing a reputable dispensary that offers THC delivery services requires a bit of careful research.
You can start with customer reviews, as they can tell a lot about various brands. They can inform you about every dispensary's product pricing, product quality, shipping and delivery fees, customer support, and everything else about their business.
Once you narrow down the list of top providers, find out if they rely on third-party lab testing. The most trustworthy vendors collaborate with independent labs to test their products for purity and quality and ensure they're perfectly safe.
Be sure to contact the providers directly if you can't find their lab test results on their site. If they're transparent about them, they're likely trustworthy.
Be wary of providers who allow you to add more than 30 grams of dried cannabis to your cart. That's the legal possession limit for a single purchase. Such providers may not follow all the Canadian laws and regulations, so they might get you into trouble with the law. If that doesn't happen, it's likely that your shipment simply won't arrive.
Conclusion
THC delivery in Canada has made every weed enthusiast's shopping experience better than ever before. Finding the products you need and placing an order couldn't be more convenient, especially with all the same-day deliveries.
You can buy high-quality THC, CBD, and other related products at competitive prices and have them delivered straight to your door without any fuss. Who would've thought that this was possible just a couple of years ago?